From the time my mother began her atelier over 35 years ago, we have stayed true to our philosophy of artisanal objects inspired by nature, created from nature.
For us it means...
Thoughtfully designed and produced objects which enhance and beautify our world, not wasteful nor harmful for the environment. We mainly use sustainable natural plant fibers handwoven in traditional methods that preserve regional craft and support the livelihoods of weavers and artisans in marginalized areas.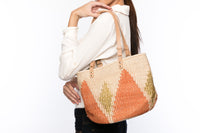 "I have just received your Sunrise Rae Tote, and I want you to know how thrilled I am by this bag. It is just beautiful. I love the colors, the soft orange, metallic gold, and natural tones of the straw and leather are a beautiful combination. The Native American influenced design of the weave looks both current and timeless. The size is perfect -- so many straw totes are huge, just too big for everyday use, but this roomy bag is a great size, not too unwieldy (and not too petite, either). And finally, this bag is so beautifully made, every detail meticulously done. Thank you for this beautiful bag!"
- Holly M.
Shop this style
"I've had a few high-quality, expensive handbags. However, this handbag is absolutely beautiful. I love the way it was made.  The hand weaving is unbelievable. I very much appreciate the process on traditional looms as well as the plant-based products that were used. Thank you for sharing the description of this bag. It shows me the uniqueness and quality of your work. I will treasure this item and share your website with my friends and family!
Thank you again!"
Brigitte T.
Shop this style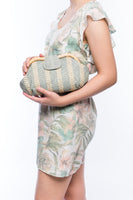 What is in the heart of our fashion?